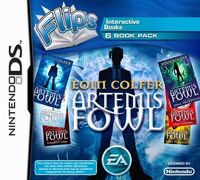 Flips: Artemis Fowl is an interactive computer program published by Nintendo and developed by Electronic Arts that features all the books of the Artemis Fowl series from Artemis Fowl to Artemis Fowl: The Time Paradox. It is similar to the 100 Classic Books released for the DS, but allows the reader to play games such as quizzes to go further and further through the stories, and also features interviews, bonuses and character profiles to be unlocked.
Ad blocker interference detected!
Wikia is a free-to-use site that makes money from advertising. We have a modified experience for viewers using ad blockers

Wikia is not accessible if you've made further modifications. Remove the custom ad blocker rule(s) and the page will load as expected.